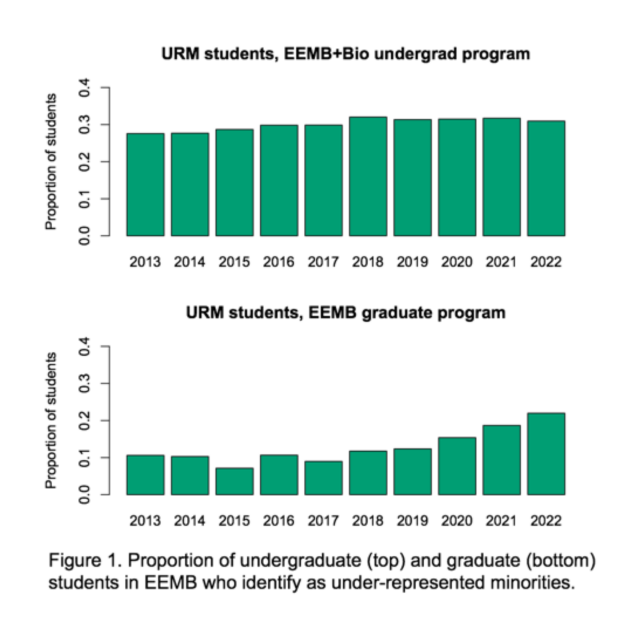 Statement of Current Condition
Diversity
Data from the UCSB Enrollment Dashboard indicates that the proportion of "under-represented minority" (URM) students in the EEMB graduate program has grown in recent years, from roughly 10% of students to 20%. The proportion of URM students in the EEMB and Biology undergraduate majors is also growing, albeit slowly, from roughly 28% ten years ago to 31% today.
Despite these gains in representation, the diversity of our students is still a poor reflection of the diversity of the state of California. According to the Public Policy Institute of California, the 2020 census showed that California's population is diverse, without a race or ethnic group in the majority. Only 35% of the state's population are white, with 39% Latino and 5% Black.
Data on the racial and ethnic demography of EEMB's faculty and staff were not readily available, but we are confident in asserting that faculty, in particular, are much less diverse than our student body.
Equity and Inclusion
The EEMB Diversity, Equity, Inclusion, and Wellness (DEIW) group conducted Climate Surveys in 2019 and 2021 to assess EEMB graduate student perspectives and experiences pertaining to DEI issues. The final reports of both climate surveys can be found on the DEIW website. In particular, the 2021 Climate Survey identified students wanting to 1) see more DEI action from the department – particularly in response to the letter to UCSB EEMB Faculty, 2) be able to give their advisors feedback, 3) have access to more relevant coursework, 4) experience a stronger sense of departmental camaraderie, and 5) receive more financial support, even if it means the department has to advocate for students at higher levels within the UC system. The highest priority for EEMB students was a desire for an improved departmental climate.
Goals
Establish best practices for equitable and transparent hiring of faculty, staff, postdoctoral scholars, and graduate students. 
Develop and disseminate resources to (a) demystify the graduate application process for prospective applicants/students (e.g. how to write a CV, how to write an email to a prospective PI, how to request an application fee waiver, how to explore funding options for graduate school) and (b) promote career and professional development for graduate students.
Establish an annual process for providing faculty feedback on their mentorship and departmental activities.
Recommend policies for recruitment and financial support of graduate students from underserved backgrounds.
Identify, create, and support activities that engage and build community among underserved undergraduate and graduate students.
Strategies to improve Retention, Recruitment, and Accountability
Working Group 1 has a system of subcommittees that are tasked with elements of these goals:
Professional development (for undergrad, graduate, and transfer students

Create and consolidate comprehensive professional development resources that are easy to find and establish quarterly community events to promote recruitment and retention at all levels.

Faculty, staff, and postdoc hires

Standardize fair hiring practices for EEMB that promote diversity, equity, and inclusion